Following Q1 2019 Pharmstandard Demonstrates an Increase in Shipment
15.05.2019
According to RNC Pharma http://rncph.ru/news/24_04_2019, following the results of Q1 2019 Russia's output of pharmaceuticals totaled to RUB 86.9 billion (in manufacturers' dispatch prices, VAT inclusive). The ruble price trend demonstrates a noticeable increase at the level of +14.7%. In spite of an impressive ruble price trends, following the results of the first three months the physical output indicators (units) have crossed the zero threshold at the level of +0.5%. RNC Pharma analysts record the cumulative shipment of 1.01 billion units of pharmaceuticals by national companies since the start of the year.
At the same time the analysts note that following the results of March 2019 Russian manufacturers not only demonstrated the maximum physical quantity of pharmaceutical drug output (0.36 billion units) during the current years, but also the best long-term dynamics (4.3%). The same pattern is shown by assessments in minimum dosage units (MDU), in Q1 2019 the output rose by 1.2%, and the outcomes of the analyzed month also contributed to the overall trend.
Over the period January–March 2019 the output of prescription drugs in packages is still growing (by 8.3%) as compared to 2018, whereas shipment of OTC drugs is falling (-4.5%).
According to RNC Pharma, by growth rate Pharmstandard is ranked in the TOP-10 Rx drug manufacturers, having demonstrated +45% dynamics (units) over the period. During this period under analysis RNC Pharma calls Combilipen (15%), Phosphogliv (10%), Picamilonum (9%), and Formetine (8%) as the Company's key products.
Pharmstandard is the second in terms of its development trend (+42%) and among the manufacturers of OTC drugs. Leaders in the OTC segment are Citramonum (10%), Activated charcoal (9%), Rinostop (9%), and Corvalol (8%).
The pharmaceutical drug output trend in Russia (including the pharmaceutical drug output of foreign pharmaceutical companies at own and contract sites) in January 2018 – March 2019, in physical (units) and monetary terms (RUB, VAT inclusive).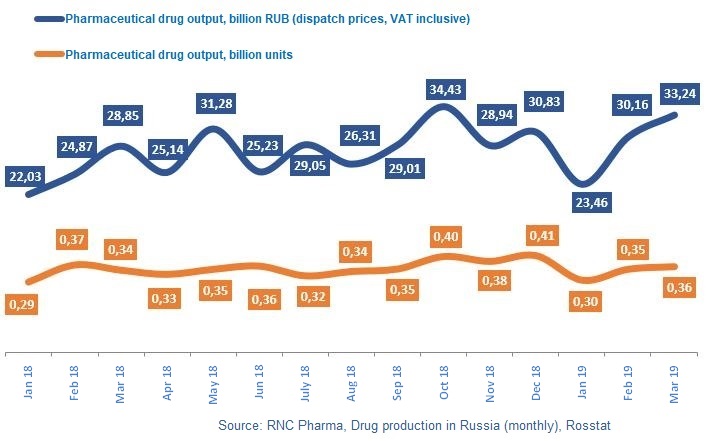 Source reference: http://rncph.ru/news/24_04_2019